Nau mai, haere mai!
Down Wakefield Street, next door to Paetūmokai Featherston Medical Centre, nestled behind boutique shops and a gourmet cheese deli on Featherston's main street, you'll find our Community Centre.  It looks out across a generous parking lot with several brightly coloured murals.  Our Centre is warm, inviting and easily accessible.
Inside, the foyer gives access to the three main rooms where a wide variety of meetings, seminars, workshops, classes, exhibitions, events, functions and other gatherings have taken place over the years.  There are five offices at the Centre used by both long-term tenants and by groups and individuals on a part-time, short-term or one-off basis.  Users of the Centre are welcome to use the kitchen, wi-fi and heating (including the woodburner in the larger Kauri room).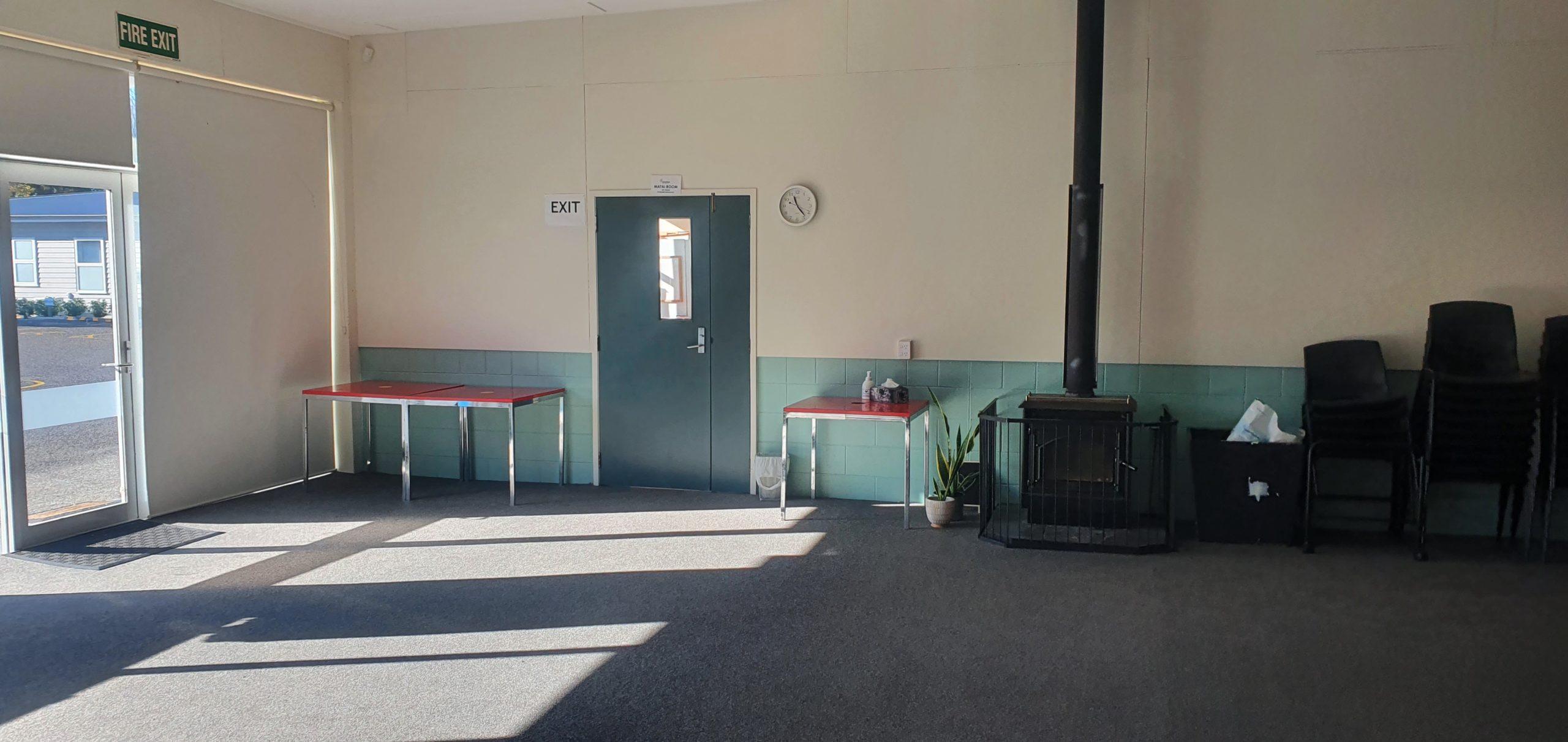 The Kauri Room (aka the 'Lounge')
9.4m x 7.86m - capacity 40-90
Our most popular and spacious room is the carpeted Kauri room.  It can cater for between 40 and 90 people, depending on the layout and the use of tables and/or chairs, so is best suited for large workshops, seminars, public meetings and private functions.  It is frequently used by exercise classes and music groups in need of room to move about.  Where large numbers of attendees are expected we have additional seats available for hire.  The room is usually heated by radiators but can also utilise the log burner (whose firewood has been kindly supplied by local donors).
The Kowhai Room (aka the 'Games Room')
6.85m x 6.4m - capacity 17-43
The medium-sized Kowhai Room will accommodate up to 43 people depending on the configuration of chairs and tables.  It is often used by special interest groups such as game clubs and support groups.  Lounge chairs are available and can be set up to be ideal for kids' birthday parties and other children focused activities (like the local playgroup).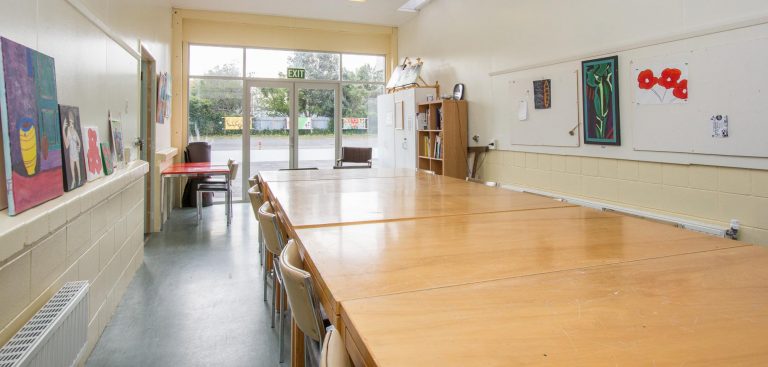 The Matai Room (aka the 'Art Space')
9.30m x 3.81m - capacity 17-25
Oriented to receive plenty of natural light, this room is used regularly for creative activities such as art and crafts workshops and classes.  It has been furnished with sturdy workbenches and a sink with hot and cold water.  The room can cater for 17 to 25 people depending on configuration.   Users of this room have direct access to the outside.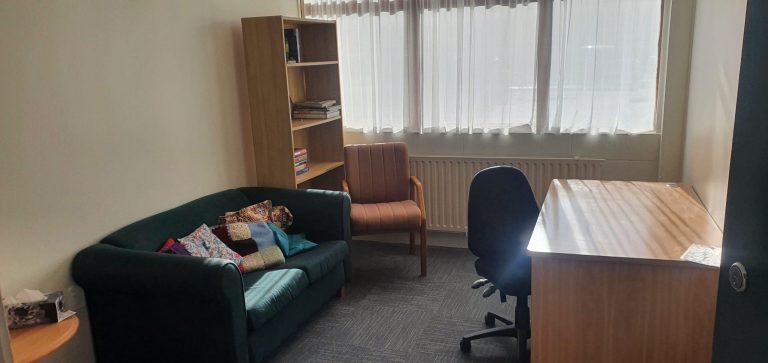 The Offices
Our building features five smaller rooms used primarily as office spaces.  The Kanuka, Rata, Rimu and Tawa rooms are similar in size and can house up to 6 people each.  The Totara room is almost twice the size of the others and can cater for up to 10.  (Occupancies depend on configuration).  Offices are rented out on both long-term and short-term bases. Presently, two of our offices are occupied by long-term tenants.  The Centre has wifi available and offices feature standard basics like desks and chairs.  All offices are lockable.  Contact the Centre's Manager to find out what offices are available and when.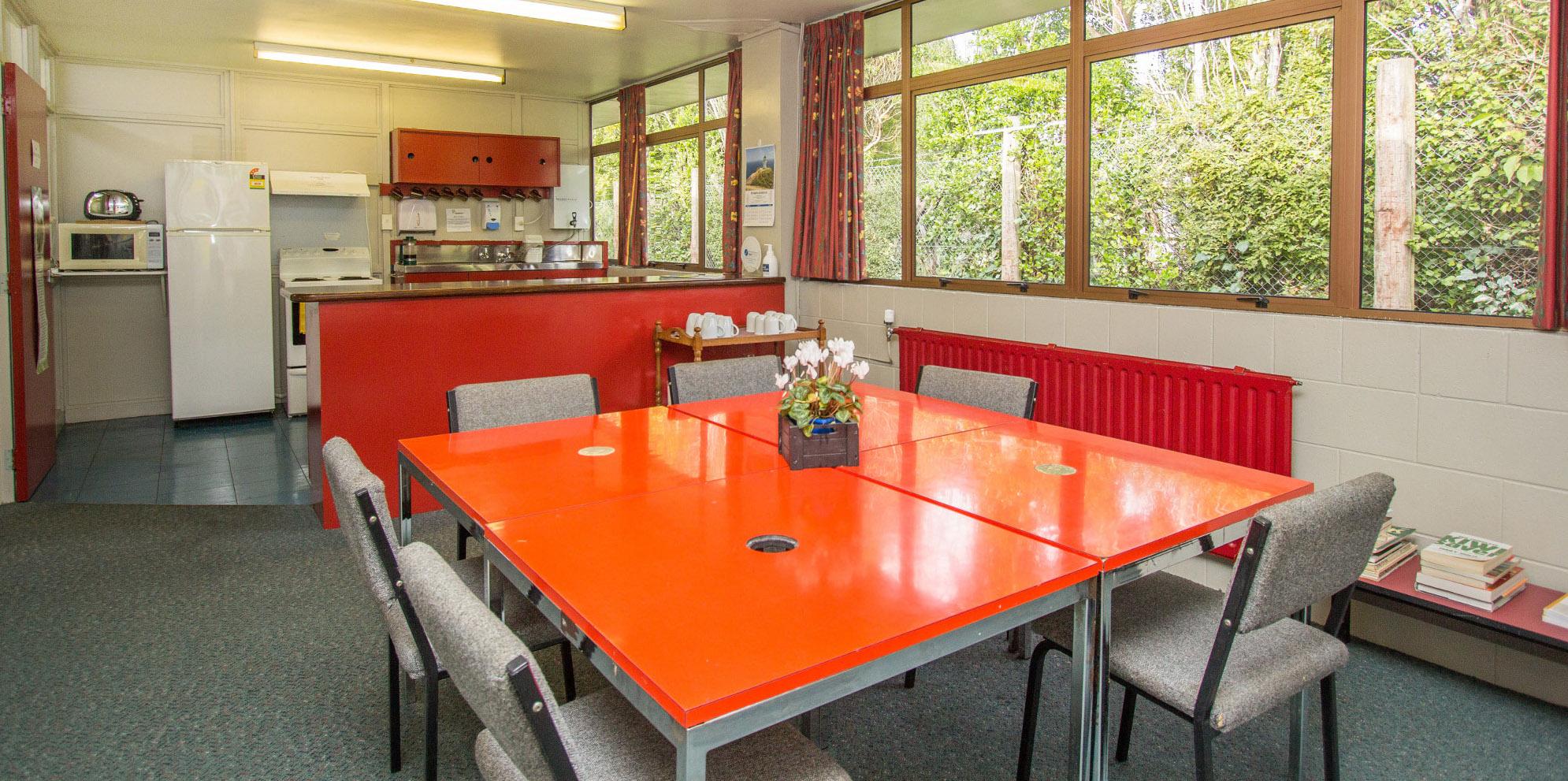 The Kitchen
The Community Centre has a full kitchen/dinette complete with an electric stove, fridge, microwave, generous bench space and a hot water boiler.  There are plates, cups, glasses, cutlery and assorted cookware including pots, pans and bowls.  There are four small tables that can be set up in the dining area for catering or for meetings.   The tables can be pushed back against the kitchen wall for buffet style meals or set up as individual tables around the kitchen.  Centre visitors are welcome to use these facilities provided they adhere to the Centre's terms and conditions of use, which include keeping it clean and tidy and being mindful and respectful of other users.  We can provide other basics like tea, coffee, milk and sugar in return for koha or a donation to help replenish anything that you use.  The kitchen can cater for up to 8 people seated.